Products tagged with 'παστελ'

The artistic Renesans dry pastels are still subject to manual production. They are dried in a fully natural way and apply top quality raw materials, including kaolin extracted in Poland, and the best dry pigments. Pastel painting sees use of dry colourful chalklike sticks, without any liquid painting agents, which are applied onto a rough surface. Pastels are composed of painting pigments with chalk, clay, or plaster for binding, which provides a soft, smooth, and easily dusting stroke. A properly created pastel offers freshness, smoothly penetrating colours, no gloss, and bright surface. Each colour is applied individually, which makes it important to have an appropriately wide colour range. Preservation of the dust falling off the surface is possible with a special fixative or a glass frame with passe-partout, which isolates paper from glass. The product range is available in 119 colours of Renesans dry pastels individually or in sets of 12, 24, 36, 48, and 99 colours.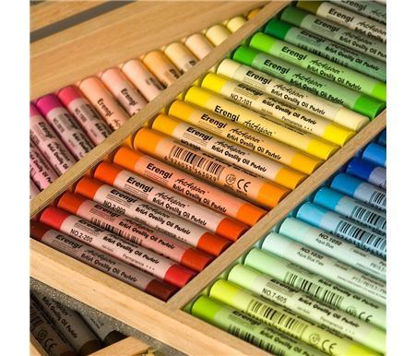 Size: 10mm*71mm/pcs Features: 1. Top level oil pastel, odorless, washable. 2. Easily to clean. 3. Colorful, not fade. 4. Medical grade material. 5. Non-toxic, environmental protection. 6. Quick dry, covering power is strong.